Neil Hamburger
Neil Hamburger Pays Tribute To Diana, Princess Of Wales (Planet Pimp)
By: Gary "Pig" Gold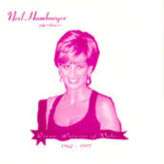 Tired of all those (as K. Richards so perfectly put it) "songs for dead blondes"? Well, not so fast!

For from perhaps the oddest of places - and most unlikely of men - comes this most oddly sincerest of tributes. Yes, none less than Neil "America's Funnyman" Hamburger has chosen to pay his due respects to the People Magazine Princess with this most moving, loving, and undeniably heartfelt recording captured live in Melbourne, Australia no less, during his fabled Zipper Shtick World Tour. Indeed, hearing IS believing. Perhaps.

Side Two of this keepsake 45, most appropriately titled "A Moment Of Silence For Diana, Princess Of Wales," handily enough also serves as a silent, poignant reflection upon the late, equally great (at least) Congressman Salvatore Phillip Bono ...IF played at 78 RPM, that is.

PS: Order Now, and your record will come packaged with a special Princess Di commemorative Kleenex tissue.