Neilson Hubbard
Why Men Fail (Parasol)
By: Alex Steininger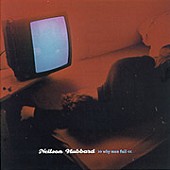 Dark, melancholy folk-pop, Neilson Hubbard's Why Men Fail contains everything I love in singer-songwriters. The songs are open, giving off a highly intimate performance note after note, while roping you in with story after story of defeat, tragedy, sorrow, and hopefully a brighter light at the end of the tunnel.

Soft and sorrowful, the song's still shine with plenty of pop, which looms in the background behind Hubbard's joke-woke-up-yet-in-near-tears voice. Hearing Hubbard pick it up a bit and start to rock out, "Surrounded" is a song that will shake you awake and make you realize there is more to Hubbard than sad acoustic pop songs. The man can write a song for every mood and find you salivating over it every time. I'll give this an A+.