Six Going On Seven
American'T (Or Won't) (Doghouse Records)
By: Alex Steininger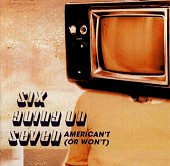 Sharp pop hooks, slow, introspective moments, coupled with charged-pop buzzing in your ear, Six Going On Seven delivers a masterful pop record with American'T (Or Won't). Soothing melodies tag alongside emotional vocals, while the band captures the soft, pretty-ness of the band before building the songs into full on rock attacks.

Here is an example of a pop record indie-friendly enough to get indie and emo kids alike drooling, but strong and structured enough to score a hit on radio with a little help. This is a very enjoyable record that will make your mouth water with crashing changes and delicate pop. I'll give it an A.