INTERVIEW: Dreams in Exile
Goth/Industrial Rock!
By: Sonya Brown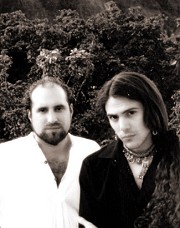 When I saw Dreams In Exile perform with Sumerland at The Medicine Hat Gallery (Portland, Oregon) last summer, they were a trio. Kirk on 12-string acoustic guitar; Regina on Bass; and Corey, vocals and acoustic guitar.

During that performance, I wrote these words about their music in my notebook: "so sad and beautiful".

I wanted to focus on their music and write an interview for them... but the daily pressures of life seemed to catch up with me... days turned into weeks, weeks turned into months... and now, a year later (and hot on the heels of their latest EP), I finally catch up to Dreams In Exile.

Smoke and Fire, the new EP from Dreams in Exile, is as light as a fairies silvery wings... and yet still so sad and beautiful.

Smoke and Fire features the tracks "Black Blast of March", "Romance of the Hermit", "Pope Antoine", "The Kreken's Daughter", and "The Hermit (Reprise)"; with additional production and atmospheres by famed Belgian ambient composer, Vidna Obmana.

I recently asked Vidna Obmana about the contributions he made to the Smoke and Fire EP, to which he graciously replies: "My relationship and understanding with Corey and Kirk of Dreams in Exile has been one of many levels as we, since our first encounter, have been exchanging thoughts, ideas and music with each other for several different projects. I absolutely take much pride in producing their exquisite music for a possible release and 'Smoke & Fire' came after a series of more in-depth recycling and production on several of their songs. For instance, the recently released 'My Queen' on the Funeral Songs compilation (Crowd Control Activities/Relapse) which features my performance on flute, acoustic and voice. However with this version of the 'Smoke & Fire' ep, we all wanted to go for a more straightforward approach and maintain the overall original character of the songs. While they often forward me their music, I felt the 3 new songs spoke for a particular mindset, when recorded, and therefor completing this as an EP was a quite obvious choice. The Ep features some of their most cohesive songs and am very happy with the final sound, this release digs deeper into the beautiful soul of Dreams in Exile and I sincerely hope many projects will follow."

The following questions for Dreams In Exile have been loitering restlessly in the back of my mind since I first jotted down those meager words last summer to describe how I felt about DIE's music...

...this is Dreams In Exile...

Sonya: Has the Dreams In Exile lineup changed since the Medicine Hat performance? Who is presently in the Dreams In Exile lineup?

Corey: We played for a while with Kirk and I on acoustic guitars (12 and 6 string respectively) and Regina LaRocca on bass. While playing those acoustic shows was really exciting, we were already looking for a drummer and keyboardist to help bring live Dreams in Exile into line with our recordings both emotionally and sonically. The rhythmic and atmospheric elements are essential to this, as is the electric guitar I now play on stage. Kirk still plays the acoustic 12 string, however. The band members, not including Kirk and myself, now include:

Regina LaRocca on bass - before joining up with Dreams in Exile, Regina has recorded and toured internationally with M99, The Obituaries, and Land of the Blind.

Brian Christopher on drums - Brian has performed in various Portland groups including Season Of Rain, Hydropods, and Bonobo Chindogu. He played on the Season Of Rain recording "Inside A Room" (Sable Records, 1996) and is also a jazz and pop songwriter, having co-written several songs on the most recent Gino Vannelli CD "Slow Love," Curtis Salgado's "More Than You Can Chew", Renato Carranto's "Generations", and Niels Lan Doky's "Hi-Tek Haiku". He is currently performing with other Portland-based bands Fiction, Zen Trio, and Double Helix. Daryl Groetsch playing keyboards - aside from weaving soundscapes with Dreams in Exile, Daryl is currently performing and recording in the ambient duo Acroyear.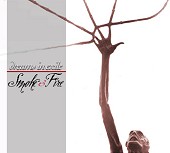 Sonya: Wow! That is quite a significant lineup change! Is this change reflected on the new "Smoke and Fire" EP?
DIE: The EP was recorded with only Kirk, Corey and Regina. Regina's excellent bass playing adds a real nice element to the tracks. The EP features Kirk Kristlibas on guitars/vocals, Corey Pressman on vocals, guitars and sequencer, and Regina LaRocca on Bass.
Sonya: The Dreams In Exile bio, at www.dreamsinexile.com, states that "Corey Pressman and Kirk Kristlibas first met at a party 14 years ago in New York". How did you ever both end up in Portland, Oregon?!
DIE: Well, after playing in New York a few times as Dreams in Exile we went our separate ways geographically; Corey wound up in the Northwest for grad school and eventually found teaching work in Portland. Eventually, conditions were right in Kirk's life for him to relocate to Portland so that we could rekindle Dreams in Exile. Even though we continued to make music and trade tapes while we were across the country from each other, it was time to get back in the same place and take Dreams in Exile to where it needs to go.
Sonya: The music of Dreams In Exile could cross over many genres. What genre (if any) does Dreams In Exile prefer to be associated with?
DIE: Any genre that our listeners want! Really, our music is such a fusion that the whole genre discussion is quite frustrating. My favorite label used for Dreams in Exile is Outburn Magazine's "lush synth and acoustic guitar inflected atmospheric folk". However, I don't think a "lush synth and acoustic guitar inflected atmospheric folk" bin will show up at your local record store soon. That's really the difficulty aspect of the genre question - labels, distributors, and radio stations have had a difficult time placing us and this results in confusion and neglect rather than excitement, unfortunately.
Sonya: Along those same lines... after listening to Smoke & Fire, your new EP, the term "lovely" comes to my mind. What words would you use to describe your music?
DIE: 'Lovely' is certainly taken as a compliment. We consciously seek to create music that is 'lovely': moving, shining, and intricate, a kind of aesthetic escapism. Hey, maybe that's our genre - it's certainly easier to write 'Aesthetic Escapism' on a bin card than "Lush Synth and Acoustic Guitar Inflected Atmospheric Folk"!
Sonya: The track "Pope Antoine" on the Smoke & Fire EP has almost a folk song flavor to it. Who would you site as your major musical influences for this track, and for your music in general?
DIE: Kirk wrote it at a very folky time in both our pasts, when pretty much all we listened to was Tyranousarus Rex.
As for musical influences across the board, it's as varied as any collection of old records might be -a collection of old records collected by a very eclectic person, that is. A reviewer has compared our music to the Cocteau Twins while another has likened us to Simon and Garfunkle - this gives you an idea of the spectrum of our influences. Also, because we are not trying to write music to fit the parameters of any given style, we can freely bring in elements from ALL the music we listen to. At no point do we say "hey, we can't use that guitar sound or that harmony, that's not Rock enough or ethereal enough."
Sonya: Who is the poet that writes these glorious lyrics for Dreams In Exile... and what (or who) is your inspiration for this poetry?
DIE: We both write the lyrics. Either we actually write them together at the same time or one of us will refine the lyrics written by the other. The lyrics for Romance of the Hermit, for example, were originally written by Kirk but in the process of working the song out musically, were altered significantly by Corey. This is the typical 50/50 arrangement. It is similar with the musical composition. Our lyrics trace a kind of Dreams in Exile mythological world inhabited by mermaids, birds, and precious stones. Indeed, one reviewer referred to us as 'florid fantasy rock'. Hey! Maybe THAT'S the genre!
Sonya: Kirk & Corey: The guitar work in your music is superb. What type of training (formal or informal) do you credit to your guitar playing?
DIE: Thank you. Both of us received some instruction when we were about 12 or 13. After that, it was a matter of listening to music we liked and figuring out the guitar parts (many thanks to Blue Oyster Cult and The Beatles for the lessons!). Also, we both began creating original material very early on - this really teaches one a lot about the instrument.
Sonya: Corey, you mentioned the discography on your website is lacking a project that has been a secret...until recently. What can you tell our readers about this project... and what is the current Dreams In Exile Discography?
DIE: The current Dreams discography includes: Since Long Before (Crowd Control Activities) - full length CD released 8/00 Smoke & Fire (Dragon Flight Recordings) - EP CD to be released 9/01 My Queen (CCA/Release Records) - song on Funeral Songs compilation 6/01 Echoes of Steel (Contemporary Harmonic) - with Vidna Obmana to be released 12/01.
We are very excited about or latest project: We are recording a 're-creation' of vidna Obmana's atmospheric classic 'River of Appearance' album using guitars, mandolins, horns, and children's choir. The recreation is coming out on Multimood Recordings in December or January. This has been a very unique opportunity for us to dig into our instruments in new ways. Also, lessons learned while approaching atmospheric compositions with the intention of separating and recreating the various elements will effect our songwriting forever.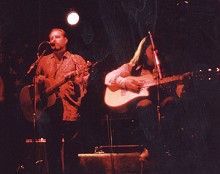 Sonya: I greatly enjoyed the Vidna Obmana performance at The Church in Portland, Oregon last winter... Please tell our readers more about your work with the Belgian ambient composer! What roll did Dreams In Exile play in bringing Vidna Obmana to Portland?
DIE: We organized and promoted the show with the gracious support of Soleilmoon Recordings and Ozone Records. That was a splendid experience. The highlight was when Vidna jammed with us in my living room - him playing the fujara and Kirk and I playing guitars...
Sonya: How did you become involved with Vidna Obmana?
DIE: Being fans of his, we sent him a copy of our first demo back in 1998. He contacted us to express his enthusiasm for our music. Later, he approached us with the idea of producing and mixing a piece for us. Our mutual satisfaction and excitement over that project led to Vidna's role on 'Since Long Before' and his production, mixing, and performance on 'My Queen' and the upcoming EP. On the EP, he has added additional atmospherics, mixed two of the racks, and remixed one of them into a brilliant reprise.
Also, we've provided the guitar tracks for his forthcoming 'Echoes of Steel' album. Our collaboration with Vidna has been very inspiring and fruitful, indeed. It is out of our admiration for him and his music that we decided to record a recreation of his 'River' album.
Sonya: I read your guestbook (http://www.dreamsinexile.com/guestbook.html), and I see that you have fans from all around the world! Does Dreams In Exile tour globally? Please give us local details, too!
DIE: Touring globally is not in the works just yet, Sonya! We do get fan mail from all over the world, but you'll have to come to Portland to see us any time soon. Kirk and I did an acoustic set last year with the band 27 in New York, but since then we've been settling in here, building the band and raising the level of performance to the height the music deserves. We've been working on new material with the band and will subsequently not hit the stage again 'till late September-ish. Keep your eye in the local papers or on the calender page at www.mp3.com/dreamsinexile.
Sonya: Are there any comments you wish to make? Please feel free!
DIE: Arise all ye fans of 'Florid Fantasy Rock', 'Aesthetic Escapism', and "Lush Synth and Acoustic Guitar Inflected Atmospheric Folk"! Thanks for the great questions, Sonya.15