INTERVIEW: Black Rebel Motorcycle Club
Virgin Records Earns Underground Success with BRMC (Virgin Records)
By: Alex Steininger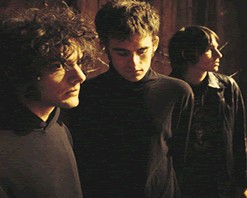 Black Rebel Motorcycle Club's self-titled debut full-length is a massive attack of guitar-driven swirling rock with equal amounts of British and American pop influences. Based in San Francisco, the band's story gives hope that a surge of good music is on the horizon and that it is bound to leak over onto modern rock radio, after the inevitable demise of boy-bands and rap-metal acts.

"I was speaking with Jeff, the guitar player for The Warlocks, and he was asked in an interview what he listens to. And for the first time in a long time, he's listening to American bands," states Robert Turner, the band's co-founder and co-vocalist. "Bands from San Francisco, Chicago, New York, Los Angeles... it's a great time for American music and I hope it lasts longer than a summer fad."

With majors investing time and money into acts like Black Rebel Motorcycle Club, it may indeed be a great time for American music. Though not without its hooks, BRMC sounds more like an underground sensation - a band that lucked out and scored a major label deal despite a lack of commercial appeal - than a made-for-radio pop act.

When the topic turns to pop hits, Nick Jago, the band's drummer, is not reluctant to talk about how much his band would appreciate a pop hit: "We'd like a big pop hit. It would make things easier. We wouldn't have to explain who the band is all the time. But, it's not really important. If it happens, it happens. If not, oh well. We're just going to make great music."

With a sold out tour across the U.S. with The Dandy Warhols, as well as their own headlining tours at capacity in almost every market they hit, critics have been jumping on the bandwagon, raving about BRMC. The band, however, is quick to denounce themselves as critic darlings.

"We're not critics darlings at all," Turner quips. "We're not The Strokes. Half the critics love us, half of them hate us."

Maybe so, but with a promising debut and mesmerizing live shows, the ones who don't understand the band's sound are sure to come around soon enough.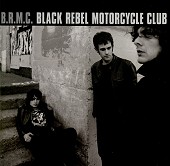 Not only did the band manage to write one of the year's best albums, they also got their label, Virgin Records, to allow them to produce it themselves, something that is almost unheard of in the industry, especially for newcomers that are untested and unproved.
"The fact that we were going to produce the album was pretty known going into it," says a confident Peter Hayes, the band's principal songwriter and vocalist. "We dedicated to go with [Virgin] because of that."
"Peter is really gifted at a lot of technical shit," explains Turner. "He's not really trained at it, but he has a gift for it. So, when we went in to record and produce the album, we just put our heads together and worked at it until we got what we wanted.
"In general we're really difficult and people can't stand us because we don't know the words to describe what we want, so it comes out in really trippy ways. It is really frustrating. They want to get the sound we want, but we can't describe what we're hearing in our heads. We're using all emotional words and not facts; we can't just give them the words to get the sound we want."
Hayes, when asked if there was ever a question in his mind that the band should go with an indie rather than a major, said matter-of-factly that "not many indies were interested."
As blunt as can be, he adds, "It's not our fault."
The interview soon gets a bit odd, if all the interruptions from people walking by the street bench we're conducting the interview wasn't enough.
I start to ask the band about songwriting; who writes the songs, what is the process they go through to come to the finished song?
"Peter comes in with the whole whip," Robert says with a smile. He then bursts into laughter before saying, "just a list of things Tony Berg [the band's A&R guy] told him to say."
"That Jackass! Wow--" replies Peter. He then gets up off the bench and storms into the club.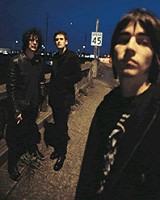 "Peter, I was fucking joking like a motherfucker," Turner yells. Peter keeps on walking into the club.
I then ask who Tony Berg is, not knowing it is the band's A&R man at the label.
"This is where the interview goes completely fictional," jokes Turner.
Intrigued on why Hayes would just jump up and excuse himself like that from the interview, I ask Jago and Turner what it was all about.
"He's a little paranoid. We're all paranoid," jokes Turner.
Still a bit confused, I inquire into whether or not my previous question was something I shouldn't have asked.
Turner gets serious and looks me straight in the eyes to tell me, "You just broke up the band. What have you done? It was going so well."
"He's just making excuses. He just wants to go pick up girls, do the rock star thing," offers Jago quickly.
Quite possibly one of the most confusing, if not hysterical interviews I've ever been involved with, I had heard going into the interview that BRMC were either stoned or pre-occupied and hard to deal with. But, once Hayes left, the interview became quite normal and informational, what any interviewer would hope for from a band.
"No, it's as even as a band gets," Turner says regarding the songwriting, once the chaos had passed. "It's nothing too special. Peter and I wrote the songs separately and together. And then we met Nick and we stopped writing so separately and started writing songs in jams, practices, and live shows.
"That's been my favorite things about live shows recently, we've got into jamming out and improvising shit on stage and writing new songs. We'll probably do it tonight, I'd imagine. Get really fluid with it and making words flow tripping off the tongue. We'll try. Sometimes it nose dives."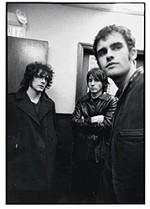 The seeds of Black Rebel Motorcycle Club were planted long ago, nurtured by Hayes and Turner's life-long friendship.
"[Peter and I] have known each other forever," details Turner, giving me some background on the band. "We grew up together. Brothers as much as it gets. He lived at my house for a long time. Family things going on, but we won't get into that. Music came around for both of us at the same time."
He pauses and adds, "We think the same and know what each other is thinking."
For all the light-hearted fun and ribbing the band does to each other, there is a lot at stake here, and a lot of pressure mounting on the band's shoulders.
"It's a big deal. The first record is a pretty big deal," Turner says without sounding too pressured or anxious regarding their self-titled debut. "Our goal when making the record was to not make it too slicked up like every other record out there. It's tricky, being on a major and all. They even had expectations of how they wanted it to be. But, I'm under the belief if you put something different into the mainstream, it might catch on."
Black Rebel Motorcycle Club's sound and style may just catch on. With moderate hype now surrounding the band, a record to back it up, and a live show to cement it all, if Virgin keeps pushing the record, we may hear Black Rebel Motorcycle Club pleasantly clogging up the airwaves rather than Limp Bizkit or Britney Spears.
I could live with that.