INTERVIEW: M. Ward
Popular In Europe / Gaining Momentum In The States (Future Farmer)
By: Alex Steininger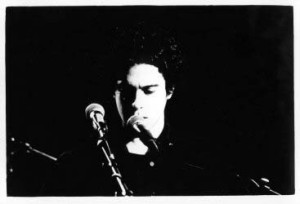 A quiet, lo-fi pop songsmith, M. Ward crafts subtle, soothing songs with a slightly rough edge. His songs are dark and whispery or upbeat and jangly, sometimes bleeding both and much more.

M. Ward is a blossoming talent. His first solo outing, Duet For Guitars #2 won the respect and admiration of Giant Sand's Howe Gelb, whom immediately decided to put the record out on his own indie label, Ow Om Records.

"Mike Cloward [Devil in the Woods owner] expressed interest in putting out the Duet For Guitars #2 CD and I was also talking to Future Farmer about putting it out," Ward states. "Then I met Howe Gelb through the Grandaddy guys, and I've always been a fan of Giant Sand, so I gave him a copy of the album. He offered to put it out so it pretty much solved the problem of who was going to put it out and was a life saver."

Ward's latest release is End of Amnesia, released in the United States by Future Farmer Recordings.

"With End of Amnesia, Dennis at Future Farmer expressed interest in putting it out," says Ward. "Howe and I knew we were going to work together again, but he was helping me find a label to put out End of Amnesia. I talked to my friend Carlos and he told me Future Farmer was doing really well and getting really organized, and I knew Dennis, so I decided to go with them. I thought it would be best to go with a label I knew, and it was on the West Coast and I see them quite often. So all those things helped me make my decision."

The record, End of Amnesia places M. Ward firmly in the middle of hot singer-songwriters you should check out. With his lo-fi demeanor, whispery, hushed melodies, and hook-filled appetite, Ward creates gigantic numbers with little more than a guitar and sparse instrumentation, stripping them down to their core and re-tooling them to work.

"I worked on End of Amnesia for two years," Ward informs me. "It took a long freaking time to do. When it came out I was like, 'wow, about time.' Part of the reason it took so long was I was taking these trips to Europe to tour... still, it took two years.

"For what is, I'm happy with it. It took a long time for me. I learned I want to keep the recording process to six months.

"The record is a long record, too. A little bit too long. I could list off a million things I would do differently. It's like the four track recordings. You think its perfect at the time... you just have to go with that. Acknowledge it's just a bridge. I'm happy with it."

We then talk about what he likes about the new record: "A thing I like about the new record is the experimental side of using those old turntables and records from old turntables. That is something that still makes my ears perk up. I also really like the instrumentals on the record and the percussion. I don't really think about it that much, though."

With the record doing well over in Europe, and subsequent tours planting M. Ward in the center of attention more and more overseas, it is time for M. Ward to get some U.S. momentum going. To play shows in his home region and get the word out.

"The last year or two I've been pretty busy with touring, mostly Europe. It's taking a lot of energy and time. I've hit Europe four times in the last year and a half," confirms Ward on his extensive overseas touring schedule. "I haven't really played that much in America. I play Portland every once in awhile. But now that this record is out - it really came out in the summer time but I haven't really supported it around here - I'll be doing that more and more.

"I have a tour in Europe happening in a week and there will be another one in January/February. It's nice. It's a lot of work. It screws up your timing and your normal every day life. Going away for a while on the road. It's bittersweet to a certain extent, but I just got married, so I want to stay home for a while. I'm not complaining about it. I like it and am happy to be able to do it."

To tour, M. Ward has recently put together a band to back him, which has him quite excited.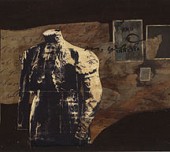 "Not really, especially with the band. We change [ End of Amnesia] up a lot. The two members of my band are really good musicians and able to do different things with the album," he says when I ask him if he's tired of End of Amnesia.
Asked what the band plays live and Ward is quick to inform me that they're "mainly playing End of Amnesia, but we also do some jazz cover songs in a different format. It's a combination of those and a few songs off of Duet From Guitars #2."
The prolific songwriter he is, Ward always seems to have something brewing. We start to talk about future projects, and sure enough, there are more than a few to keep him occupied for a bit.
"There is the live record I'm doing," he says excitedly. "It's not going to be a label thing or a money maker. Just something I'll make a thousand of, sell on the road, make a little bit of money, and then move on. Maybe do another live record down the road.
"It is a collection of some songs off of both albums, some cover songs, and some new songs.
"And there is this little tiny French label called Hinah that wants to put something out, so I think I'm going to give them some four track recordings I did in Chicago. The four-track album will probably be a couple songs. Last about twenty minutes. Really lo-fi. But, fun for me because I like lo-fi and four track recordings.
"Then there is this label in German that wants to do a Smiths tribute and I really love the Smiths, so I'm working on that. Then there is another German label who wants to do a 7", so I'm trying to figure out what to give everybody."
As for future musical styles from M. Ward?
"Definitely doing some more rock stuff," he says, when questioned about his rock past. "The stuff I'm doing right now with the band is more like Rodriguez [his previous band] and less folk-y. Kind of... I don't know... jazz, rock, and punk influences with some folk-y stuff... it's hard to explain exactly. But some of the stuff does remind me of Rodriguez."
M. Ward is currently in Europe on tour and will be hitting Europe again in January/February, with a U.S. tour planned for the spring.