INTERVIEW: Sunset Valley
Northwest's Quirky Indie Pop Trio Is Back (Barsuk)
By: Alex Steininger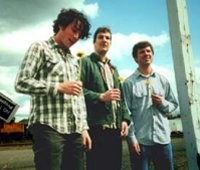 "All that buzz, it was all bullshit," states Herman Jolly, Sunset Valley's principal songwriter and frontman, without a second thought, when discussing the band's Northwest hype and subsequent signing to a major-funded label.

After two albums on Chicago indie Sugar Free Records, Sunset Valley signed with Los Angeles-based Kneeling Elephant Records, a joint venture between Artist Direct and RCA.

When the label failed to take off in little over a year, RCA pulled the funding, and the label collapsed, leaving bands like Sunset Valley bruised, confused, and without a label.

"[Kneeling Elephant] had a deal with RCA that was like a one or two year deal to be re-negotiated after that time," informs Eric Furlong, the band's bassist. "It was right after [Kneeling Elephant] signed our contract that they went back to re-negotiate the deal and told [RCA] how they spent the first round of money and who they had coming up.

"RCA basically told them they weren't going to continue with the deal. They then gave us the option to sign with RCA in some bad plan-b idea. No one at the label would sign us, we would just get thrown into the mix with no guarantee of support or anything. The idea of just signing to a major label to be signed with a major label didn't seem like that good of an idea."

The entire process was agonizing; an experience the band isn't about to forget.

"We didn't find out what was going on until after we had signed the contracts and everything was in the mail," Eric tells me. "Then they kept telling us not to worry, that it was going to happen. This went on for like six months, where we'd e-mail or call them to find out what was going on and we wouldn't hear back from them for awhile. We didn't know what was going on. We didn't know if they changed their mind or what.

"We were waiting and waiting and it just seemed like any day now we'd hear from these guys and get it all rolling. The other arm of Kneeling Elephant, Artist Direct, one of the bigger booking agencies, was going to book us and told us we were all set once the ink was dry. They promised us they'd put us out on the road and all this stuff was going to happen.

"They also told us they were going to re-release our other two albums overseas. It seemed like we were on a long break, just doing nothing, waiting for it all to happen. People thought we moved out of town or broke up, but really we were being told 'maybe not this week, but next week' everything was going to come together, just as soon as the money came in from RCA. So we didn't think we should do anything on our capacity if we were about to do it for real."

"At the same time they were telling our label, Sugar Free, the same thing," adds Jonathan, the band's drummer. "Kneeling Elephant told Sugar Free they were going to help them promote the record [Boyscout Superhero] and throw some money their way.

"So, Sugar Free basically sat on the record waiting for it all to happen. There was a lot of press, radio, and marketing that never happened for that record."

Eric adds more information on the frustrating situation between Sugar Free, the band, and Kneeling Elephant: "There was actually a contract signed between Sugar Free and Kneeling Elephant stating, among other things, that our third record would have Sugar Free's logo on it, too. They were so adamant this was all going to happen, they went to great lengths to get all these contracts signed and everything."

"Then the announcement came that there was no money for Kneeling Elephant from RCA, so it just ran down the pipe," Jonathan says with a now-leery tone. "No money for Kneeling Elephant, no money for us, and no support for Sugar Free. We were all left standing wondering what was happening. We had everything on hold waiting for it to happen and then nothing happened. We didn't have any marketing behind the record, no tour, nothing. It was frustrating."

The hype surrounding The New Speed, the band's debut full-length was virtually killed by the time Boyscout Superhero was released. Once a thriving band, especially in the NW, the band found it hard to even draw in their hometown, with Boyscout Superhero's CD Release Party at well under capacity.

At one point all money was on Sunset Valley to be the next big thing out of the Northwest. Signed by a major management company, Revolver, best known for handling Everclear, and a deal with Kneeling Elephant, the band seemed poised to break.

But, all things that go up most come down, and the cold reality of the music business became all-too-clear to the band.

"We were deflated," says Herman on the band's morale. "We had all these demos we were working on and we weren't getting any responses. Nobody was talking. They didn't want us to know what was going on."

Dissolved of their contract with Kneeling Elephant, choosing to leave their management firm, Sunset Valley went back to where they began, in their garage, opting to start from square one rather than deal with any more headaches.

"Boyscout was an attempt at a radio record," explains Jonathan. "All this stuff was on the horizon at this point and we could see this path we were supposed to go down. We took a lot of time making that record, trying to make it as perfect as we could. After it all we had to start over, go back to where we started. We had to let go of some people and went back to being a three-piece."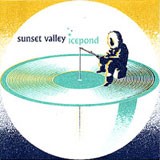 The band went into the studio, on their own dime, and started to work on what would soon be their third full-length, Icepond.
"We literally would go into the studio, plug in mics, and start recording. We were the producers. There was nobody telling us this song should be like this, or this song should do this," explains Jonathan on the do-it-yourself spirit of their new record. "We started out with somebody trying to help us out, but it didn't really work. Telling us to take this part out or add a chorus here. This time we decided to record it ourselves and put it back to what we were originally doing in the basement with just three of us. Icepond is really us."
Their third full-length was recently released on the hot indie Barsuk, nationally known for breaking Death Cab for Cutie.
"We sent Barsuk some rough demos and then started to talk to them about putting out our next record," explains Herman on how they hooked up with Barsuk. "Tony Lash [their previous producer, friend, and the man who mastered their new record] gave us Barsuk's e-mail address and we knew Death Cab for Cutie from touring with them. So Tony and Death Cab encouraged Barsuk to put out the record so we kept talking and then the record was done and we wanted someone to put it out."
"There was a big lull while we were waiting for nothing to happen so we're just getting that going again," says an optimistic Herman when questioned if he's happy to be back at the starting point. "Now we've got a new level we're at, we're just starting over basically. It's been two years since our last record came out and nothing happened when it came out, so we're kinda picking it up from The New Speed."
He pauses and then elaborates: "We don't even know where we're at. Icepond came out two weeks ago and nobody knows, so we're going to play some shows to raise awareness. We need to find out where we're at now. The rest of this fall we'll be playing all around this country, kinda gauging it and seeing what happens. Then we'll know if we're happy or not. I think it will be cool, though. We really like Barsuk. The whole Kneeling Elephant/RCA thing stripped away a lot of illusions the band or myself may have had about how things are supposed to go when you're in a band. As long as our records are good to us, I think that will afford us the happiness. Other stuff could happen and that will add to the happiness."
Icepond is by far the band's most experimental record, opting to create multiple layers of instrumentation rather than hit you over the head with pop hooks. Though, it is still shining with Sunset's ability to craft delicate hooks alongside quirky animation.
"We wanted to get all the weird sounds on there we could," proclaims Eric. "Weird sounds we heard in our heads but didn't know how to get on tape, unplanned stuff... we left those things in there."
He pauses for a minute and then divulges that the band handled all the recording, but brought someone else in to mix and master the record. "We did have Tony Lash come in and mix and master the record, because we wanted to make sure we had someone mix it who would be able to make sure people could hear everything that was going on."
Sunset Valley, once a five-piece, swollen to re-produce the sounds they created in the studio on stage, has truly traveled 360 degrees. Back to the basics, the band is a three-piece, on an indie, and prepared to regain the momentum they once had.
"As far as morale goes, we're very happy and we're the most excited we've been since we've started," Jonathan says with honest excitement.
"We're happy to be our original line-up again," Herman is quick to add before pausing. He then tells me of the band's plan to get their name out there, "I think 2002 will be a bunch of touring. It may just work."