The Dictators
D.F.F.D. (Dictatory Multi/Media)
By: Alex Steininger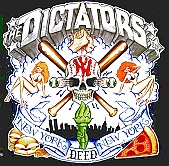 Opening up with the question, "Who Will Save Rock and Roll?", The Dictators answer their own question, creating a juicy, sing-along-able anthem for a new generation of rock 'n' rollers. Poppy, yet fierce, the blazing guitars tightly wrap around the melody, pushing and shoving it to the max, making sure every last drop of rock is given to the song, yet ensuring the pop has its say in court, too.

From there the band keeps on trucking, playing rough, tumble rock songs that speak their mind; "Pussy and Money", "The Moronic Inferno," and "In The Presence of a New God" help you rally around the band and their point of view on life as we know it.

Legendary punk rockers, The Dictators haven't lost steam. Playing with less force, maybe, they still have plenty of power to boot, giving old and new fans alike something mighty tasty to chew on. This is the real deal of punk rock - of rock - and might be one of the slew of bands out there fighting to save rock from an unfair death. I'll give it an A.