Various Artists: Punch Drunk III
TKO Records Compilation (TKO Records)
By: Alex Steininger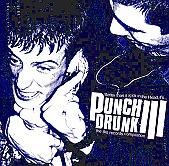 With Punch Drunk III, TKO's latest label sampler, the San Francisco-based punk labels proves that punk isn't dead, taking it to the streets and delivering fast, vicious punk from the likes of U.S. Bombs, Thug Murder, Sixer, The Stitches, and The Riffs, to name a few.

Known for their sped up, shin-splitting '77 style street punk, TKO doesn't disappoint, with twenty six previously unreleased or out-of-print tracks sure to get your blood pumping, body bruised, and mind on the punk. I'll give it a B.