Ralph
Sophisticated Boom Boom (Bongo Beat Records)
By: Gary "Pig" Gold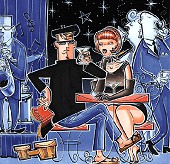 Funny how, after all these years, very few seem to have yet fully exploited all the shiny new CD medium has to offer (such as over an hour's worth of seamless sound, and now multi-media programs to boot). Funnier still, possibly, how just one young man from Canada, previously best known as a band manager / fanzine publisher / record designer, has gone and produced one of the most expert examples of what can actually be achieved in this brave new digital domain. For on this, his third compact release, Vancouver's very own beat-pop poet-extraordinaire Ralph Alfonso has compiled what is, in fact, much much more than just "an album" in the usual been-there-heard-that sense of the word.

Yes, "Sophisticated Boom Boom" IS full of great songs, all recorded and presented with the man's usual attention to both sonic and graphic detail (dammit if "Happy With Nothing" and especially "Jangly Love Song" aren't near Top 40 in their mastery of melody and mirth!)-- but it is the very way this album's thirty-one tracks are programmed and sequenced (the latter now close to a lost art in itself) that's more impressive still. Brilliantly sub-divided into four distinct sections, Ralph taps then guides the willing listener on a journey of almost cinematic qualities, starting with his standard "beat jazz swing" thing (caution, though: Ralph was "swing" before it became a dirty word) (again), followed by a rousing plunge into the worlds of "loud guitars" and "living room pianos" (French/English dictionaries recommended right about here) before easing us down with a few minutes' "early morning coffee."

Along the way, you'll chance upon all matter of unlikely characters (a downright creepy-cool Gene Vincent requiem done Jack Webb style, I kid you knot; a touching re-cast of the Diodes' classic "Tired Of Waking Up Tired"; even a Shangri-Las B-side!) with most every such slice of song broken from one other with tasty little spoken vignettes of the kind only an un-ironic master of the idiom like Ralph can honestly pull off anymore. Add six additional numbers -- and even three videos! -- on the multimedia track, and you truly have a (thankfully) sprawling near masterpiece of a feast for all of one's senses. This is truly a remarkable achievement. Don't return home without it.