Danny Barnes & Thee Old Codgers
Things I Done Wrong (Terminus Records)
By: Alex Steininger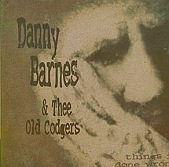 Danny Barnes is a true American songwriter. Turning Americana into his own, very distinct sound, Barnes, accompanied by his new band, Thee Old Codgers, infuses country, bluegrass, and folk in his melting pop of Americana.

From the vigorous banjo-chase of "Devil on the Mountain" to the back porch romance of "Hey Baby I'm Falling" through the danceable lament of "All Alone For Christmas," Danny Barnes & Thee Old Codgers skillfully, if not masterfully create hot, high-energy Americana-bluegrass for anyone that is willing to listen.

Intricate instrumentation mixed with an intense soul for down home styling, Things I Done Wrong is the perfect hot afternoon party record, sitting on the deck or the porch cranking it loud, with a beer or lemonade, and thinking about the good times you've had and will have. I'll give it an A.