Green Day
International Superhits! (Reprise Records)
By: Alex Steininger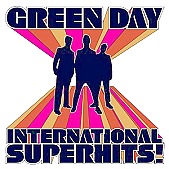 Green Day's pop-punk anthems for adolescence and adults alike are contained on one album, International Superhits!, a twenty-one track 'best of' Green Day record, including all the songs that made them rock stars, as well as follow-up hits that cemented their names in the rock history books.

An example of the track listing is: "When I Come Around", "Welcome To Paradise", "Basket Case", "When I Come Around", "Brain Stew / Jaded", "Walking Contradiction", "Stuck With Me", "Good Riddance (Time Of Your Life)", "Nice Guys Finish Last", "Warning", "Minority", and "Macy's Day Parade".

As you can see, everything from the intensely catchy "Basket Case" to the pop-introspective "When I Come Around", through the acoustic ballad "Good Riddance (Time Of Your Life)" all find their way onto International Superhits!.

Two new songs also make it on to the album; the band's current hit "Maria" and "Poprocks & Coke". The first is a standard bass-heavy Green Day pop-punk song, whereas the latter burns with the band's smart pop sensibilities, but never undermines their punk heritage. Fans of the band will love the two new songs as well as the ability to listen to all the hits on one album. Those unfamiliar with Green Day will marvel at their juicy pop and fierce punk bite. This album is sure to please fans and make a lot of new fans for the band. I'll give it an A.