VARIOUS ARTISTS
R.A.F.R. Volume 3 (Rock and Fucking Roll)
By: Alex Steininger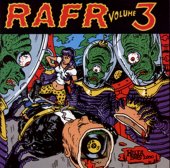 Los Angeles' R.A.F.R. (Rock and Fucking Roll) Records is one of the greatest labels out there for rock 'n' roll music. And, continuing with the tradition, R.A.F.R. Volume 3 offers some of the best in punk and rock 'n' roll, from the established to the up-and-coming.

My three favorite tracks on the album would have to be from the always brilliant Bellrays with "Heat Cage", the hook-laden, faster-than-fuck pop-punk of Libertine's "Moscow", and True Love with "Heartache To Come". Normally a sugary, irresistible pop act, True Love offers up a gritty rock number here, though still manage to keep their pop abilities alive.

Other notables include the wild, chaotic punk of The Weaklings, Candy Ass, The Fuzztones, and Iggy Pop's bastard child, The Streetwalkin' Cheetahs, featuring Jeff Dahl and Wayne Kramer, covering Little Richard's "Tutti Fruitti".

Rock and Fucking Roll is right, especially when referring to anything R.A.F.R. releases. Hot, blazing rock that will make you sizzle, don't pass this up. I'll give it an A.