Drive-By Truckers
Southern Rock Opera 2xCD (Drive-By Truckers)
By: Alex Steininger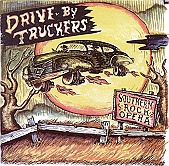 Drive-By Truckers' Southern Rock Opera is a two-disc set of sizzling guitars, pounding rhythms, and plenty of whiskey-soaked melodies, loud and rollicking, while the band tells you stories of violence, drinking, and having fun as only Southern boys know how to do.

Coming from someone who thinks Southern rock is nothing more than bar rock that leaked into the mainstream somehow, I must say that Drive-By Truckers are much more than that bar band you see at some middle-of-nowhere bar because you're on a road trip and want to grab a bite to eat and drink some beer. Unlike that band (which most likely is stuck in that bar for a reason), Drive-By Truckers kick it up a notch and actually play with style, creating good ol' Southern rock that is actually good. And, what's more, it manages to keep you interested throughout two CDs, which is hard for any band to do, let alone a Southern rock bar band. I'll give this a B.