Bobby Wayne
Hot Rod Motorcycles, Volume 1 (Wildfire Records)
By: Gary "Pig" Gold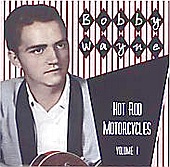 Okay folks, time for a quick History Lesson: A young country music fan from far-off Spokane, Washington forms his first band as he turns sixteen, and then within a year experiences an epiphany upon hearing an early Elvis side at an Atlanta lunch counter. Quickly rushing into the nearest recording studio armed with a brand new, appropriately revved-up song (written for a home-coming queen he'd just performed for name of Sally Ann), the youngster records same, and said disc, released circa Christmastime 1955, actually gives birth to no less than the legendary-indeed American Pacific Northwest rock'n'roll scene itself.

The End? Nosiree! For like all our most rugged pioneers, the hero of this little-known saga does NOT simply fade away to black, but bravely continues gigging, recording, and -- yes -- rockin' --unto this very day.

The man's name is Bobby Wayne, and his "Hot Rod Motorcycles" presents a wicked-indeed overview of not only his oeuvre (basically: hard, country-fried rock in a George Jones / Johnny Cash / yes, Elvis mode) but shares a side or four along the way with a couple'a pals as well (namely his old songwriting partner Don Weise, not to mention the incredible-and-a-half Andy Starr, whose "Atomic Hillbilly" herein should be sent The Cramps' way. PRONTO). Bobby himself still mines his rich, hard-country veins, somehow finding fresh, vibrant slants to the Buddy Knox, Johnny Horton, Marty Robbins and especially Dave Dudley songbooks in the process.

But then there's "Born To Ride" (damn, but I wish The Dictators could'a tackled this one!) and then the self-explanatory "Bobby's Hot Rod Boogie" (which approaches even Junior Brown levels of intensity vs. dexterity). Why, even the landmark, original "Sally Ann" appears in all of its soupy, swampy, 45-RPM splendor.

Derivative in spots (whatever that means)? Okay, smart-ass --but name me one album -- or artist -- who ISN'T. And while you may be at it, d'ya know of (m)any other Americans -- Pacific Northwesterners or otherwise -- who can still be found raising holy hell at the nearest rodeo half-time? Not to mention, for that matter, plowing through the fillies at the local VFW hall? Well, I got news: Bobby Wayne and his trusty guitar ARE --and somewhere around ten o'clock tonight too, I betcha. As he has been for a near half-century already.

Fade to black, cat!