Conshafter
Your Day Job (Dork Epiphany Records)
By: Alex Steininger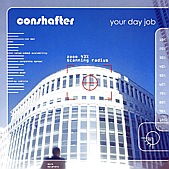 Soft emo mixed with plenty of loose pop and undeveloped sparkling melodies and the occasional flash of pop-punk, Conshafter shows their musical youth on Your Day Job, but also demonstrates a talented band ready to record a phenomenal record with the right producer and plenty of practice.

Your Day Job is a good collection of songs and lots of energy with plenty of lyrics you'll relate to. However, the recording is loose and the band sounds brand new. With some tighter performances and a solid producer, Your Day Job could have been the best emo record of 2002. As it stands, though, it's a good record to listen to and proves that Conshafter has a lot to offer in the future. I'll give it a C+.