Sounds Of The San Francisco Adult Bookstores
Sounds Of The San Francisco Adult Bookstores (Planet Pimp Records)
By: Gary "Pig" Gold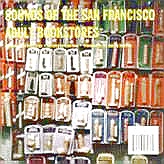 Ever care to secretly enter the sweet, sordid world of tissues, tokens and "No Talking" --without anyone catching you, that is? Well, the fine folk at Planet Pimp have herein provided the ultimate armchair guide to visual cruising, as it were, with this platter of actual field recordings ("aisle recordings" is more like it) captured by the Candid Microphone at - everyone writing this down? - Frenchy's Books, The New Locker Room Video, City Entertainment, Le Salon Magazines, Kearny Street Books And Video, "plus special bonus recordings from Books And Video in San Mateo and Adult Videos in Sacramento."

Narrated by one Ryan Kerr (sounding suspiciously like a tape-manipulated version of Planet Pimp superstar Neil Hamburger), this is exactly the kind of record Brian Eno, for one, should be churning out these days. You might also be advised that other recordings available in this series include Sounds Of The American Science Fiction Conventions, Hawaiian Car Rental Agencies, International Airport Restrooms, American Convenience Stores, American Copy Shops, American Gas Stations, American Multi-plex Theater Chains, and the ever-popular Sounds Of The American Fast Food Restaurants (Volume One). Collect 'em all today, so you'll have something your grandchildren can sell to the Smithsonian when they run out of Nintendo money.