The Church
[Rated R] (Anchor Bay Entertainment)
By: Randy Harward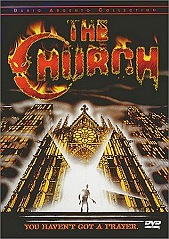 Uncool. This movie sucks, especially since it was originally the third in the Demons trilogy, which started off so well. Demons and Demons 2 had those kickass, rabid, hissing demons. The best The Church (original title: Demons 3) can muster is a giant goat-like Satan humping a very attractive woman in the basement of a gothic church. The gore is substandard. The characters and dialogue, as with most Italian horror films, are terrible. Pass this up.

Extras: trailer, widescreen.