The World of Sid and Marty Krofft
DVD (Rhino)
By: Randy Harward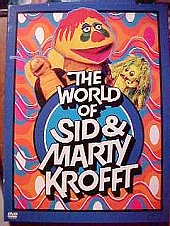 Remember H.R. Pufnstuf, Barney's drugged-out hippie/yokel uncle? He was the best friend and savior of that little wuss Jimmy and Freddy, the magic flute? They were always running from Witchypoo, who coveted the flute, avoiding evil trees and mushrooms along the way? Well, now these shows and other Sid and Marty Krofft kreations are available for your viewing pleasure (presumably with a bong and a bowl of cereal!) on DVD!

The World Of Sid and Marty Krofft features on episode of each of the 13 Saturday morning series they created, from the above mentioned shows to other immensely popular programs such as Land of the Lost? (remember, the one about the Porter family, who traveled back to the Stone Age only to get stranded and learn to fend for themselves against dinosaurs and Sleestaks? Awesome!), The Bugaloos, Pryor's Place, Magic Mongo, Lidsville, Far Our Space Nuts, The Lost Saucer, Sigmund and the Sea Monsters, Electra Woman and Dynagirl, Dr. Shrinker, and Bigfoot and Wildboy.

If any of those monuments to bad fashion ring a bell, be delighted to know that you can own this sampling in a beautiful 3-disc box set. Each show is represented by one never-before seen episode. Total running time is 390 minutes, or six years if you watch them in an altered state of mind.