Dropkick Murphys vs. Face To Face
Split EP (Vagrant Records)
By: Alex Steininger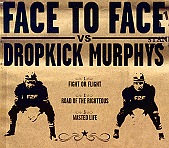 Punk rock titans Dropkick Murphys and Face To Face deliver three songs each on this CD-EP. What you would expect is what you get, six excellent, well-produced, powerful punk rock numbers. Face to Face goes from the crunchy fury of "Fight or Flight" to "Road of the Righteous", a Dropkick Murphys cover that shows Face To Face playing it fast and loud, like always.

Letters To Cleo's Kay Hanley sweetens the pot on "The Dirty Glass" bringing a sexy, sultry tingle to Dropkick's Irish pub-punk. Her vocals make the song magical, as it goes from testosterone driven to pretty pop in a matter of seconds. From there Dropkick doesn't mess around, delivering their '77 style punk rock with substance and style.

This is a damn fine representation of what these two bands are capable of, as they have fun while kicking out some rockin' punk. I'll give it an A-.