Audio Learning Center
Friendships Often Fade Away (Vagrant Records)
By: Alex Steininger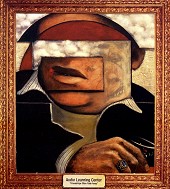 There are albums that you like. The ones you blast on your stereo at a party or play in your car when you're going about your day. Then there are the albums that remind you of how important music is to your daily life, albums that effect you in one way or another, the ones that are filled with so much passion, you can't help but swear by them. Chris Brady (ex. Pond), Steve Birch, and Paul Johnson's latest outfit, Audio Learning Center, has created the latter with Friendships Often Fade Away.

Friendships Often Fade Away is a thinking man's rock record. When you put it on, it instantly consumes your mind, as thoughts run wild, and your heart soaks in the pain, sorrow, and life that is Audio Learning Center's songs.

The quick, mature angst of "A Dedication" highlights the band's ability to write angry songs with wisdom, while it also showcases their stellar musicianship, with Steve Birch providing an excellent, short guitar solo that makes the song.

"Favorite" shows another side of the band. With childhood excitement, Brady sings about buying the new record from his favorite band, listening to it non stop locked in his room, turning his friends on to the band, and then starting a fan club for the band. "You've got me through some bad times, that you wouldn't believe," Brady proclaims, giving the listener the same thrill listening to his band as he did when he listened to bands like The Smiths or The Replacements.

The versatility of Friendships Often Fade Away makes the record that much more stunning. The poignant "I Love Robot" is a heartening song about the ups and downs of love, as Brady finds himself in love with a robot he is trying to repair and bring back to life. Drummer Paul Johnson lays down a soft, trickling drum beat and Birch's guitar sprinkles an early morning mist on the sad tale with a promising ending.

"Prescription" is one of the most beautiful songs on the album, a mid-tempo song that is neither rock nor pop, but a lyrically sound song that weaves between the two genres, all the while blazing its own unique path.

"Hand Me Downs" finds the band saying more with soft beats and passive melodies. They prefer this method over blazing guitars and pushy hooks, all the while using the unique rock sound to reel you in to a spellbinding story of looking at life a different way as you grow older and come to terms with a lot of things.

"Broken" is another must hear song. The band lets the rock loose as they easily win you over with another winning story of life taking a wrong turn coupled with a solid rhythm section and a guitar that goes from fuzzy to buzzing in no time flat.

Friendships Often Fade Away is one of the best albums of 2002. Finding a more heartfelt, honest snapshot of someone's life would be hard to do, as ALC lays it all on the line, giving their blood and sweat to perfect their craft. I'll give this an A+.