Giant Sand
Cover Magazine (Thrilljockey)
By: Alex Steininger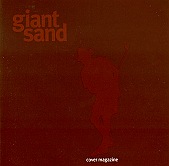 Howe Gelb and Giant Sand redefine the hits on Cover Magazine, their recent Thrill Jockey-released album filled with covers ranging from Marty Robbins to U2 (Gelb only writes one song on the album).

Giant Sand's cover of the classic Black Sabbath "Iron Man" ranks up there as one of the most original covers ever, as Gelb and company strip away the metal and completely rebuild it, turning it into a dark, smoky lounge piece.

X's "Johnny Hit and Run Pauline" takes on a folky-blues-country front as Gelb whispers his way through while PJ Harvey's voice sends a shock through the song not unlike what Cervenka was known for.

Nick Cave's "Red Right Hand" transcends into an eerie folk song when Giant Sand gets their hands on it, and Johnny Cash's "I'm Leaving Now (Adios)" is a bouncy shuffle, an old-time rock 'n' roll piece not unlike what Chuck Berry would have done if his songs were darker.

The Gelb-penned "Blue Marble Girl" is a near ten minute travel down a dark, haunted rock 'n' roll road.

Giant Sand creates a cover album that is unlike any cover album with Cover Magazine, giving you the sense that they really thought about the song choices and how they could re-do them before they put the songs to tape. An excellent record and by far one of the best cover albums I've ever heard. I'll give it an A.