Johnny Cash
The Fabulous (Columbia/Legacy)
By: Alex Steininger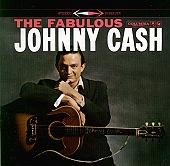 The Fabulous Johnny Cash, recorded in July and August of 1958, was Cash's first record for Columbia Records. Cash's previous work had established him as a leading man in rock-a-billy, however The Fabulous Johnny Cash found Cash creating the country-folk that would make him a household name in the country world.

The infamous "I Still Miss Someone" gives this album its identity, but it is the remaining eleven songs, including "Run Softly, Blue River", "Frankie's Man, Johnny", and "Don't Take Your Guns To Town" that make it the tremendous (read: fabulous) package that it is.

A rough and tumble, dark Cash emerges, creating and penning some of the world's most beloved, historical country numbers to ever wear the country badge. Columbia/Legacy's re-issue gives fans even more bang for their buck, including six previously unreleased in the U.S. songs recorded during these sessions, songs that further honor the history of Cash and help cement him in the country hall-of-fame. I'll give this an A+.