The Chesterfield Kings
Where The Action Is! (Sundazed Music)
By: Gary "Pig" Gold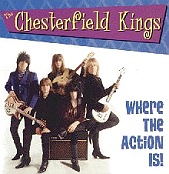 One late night a while back I headed straight into the wrong part of Manhattan to witness the first show in over thirty years by Boston's still-legendary Barry & the Remains. It was, without doubt, a MIRACULOUS event. These Remains, unashamedly crusty (and wearing the same instruments -- and probably shirts! -- they had at their last performance) simply sauntered on stage and spent the next hour plowing through a perfectly vintage- '66 set list --wherein, I'll have you realize, each and every number, INCLUDING "Like A Rolling Stone," ended up sounding exactly like "Hang On Sloopy."

In other words? An absolutely transplendant performance.

Well, it's that same kinda cockily-casual fashion that makes this here Chesterfield Kings album so fantastic as well. For you see, its seventeen selections include some crackin' new original numbers, a pile of brilliantly tossed-off covers (why, the guys even tackle the Hollies' "Look Through Any Window"!), and a few really neat pictures of the band on the cover to boot. In other words, just one big Sloppy Joe of a platter that absolutely drips with that haunted, hallowed Spirit of 66. Nothing more, and surely nothing less.

Appropriately enough, the true highlight of this disc is "Where Do We Go From Here," a collaboration with the one, the only Mark Lindsay (yes, he of Paul Revere's Raiders fame). But Guest-Star gimmickry be damned: this startlingly apt pairing, from Mark and King Chesterfield Greg Prevost's lead vocal duet on down, more than just cooks long time: it is, in fact, one true searing slice of pure, edge-cutting pop/rock that would not, dare I say it, sound one note out of place on the Raiders' own "Midnight Ride" long-player.. And, you must now realize, that's just about the coolest sort of endorsement I've needed to direct towards ANY record in recent memory! Hopefully there'll soon be many more such wicked Lindsay/ChesterKing collaborations (and a TOUR, please!!!) --In the meantime though, Action fans both new and old will find more than their fair share of fun, fab, "Sloopy"-worthy tracks hearin.