Big Sandy and the Fly-Rite Trio
On The Go (Jeems Records)
By: Alex Steininger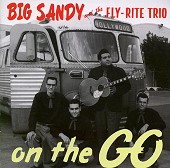 The seminal 1991 album that made Big Sandy and the Fly-Rite Trio forerunners in the modern rockabilly revival, On The Go is being re-released with bonus tracks.

Straight up rockabilly, Big Sandy and the Fly-Rite Trio would sound right at home in the 50's, though certainly not dated in the new millennium. The songs have the chops to withstand the test of time, and the sound to make rockabilly fans feel as if they're truly hearing the second coming of rockabilly.

Big Sandy has the swank and sexiness in his voice that made Elvis Presley the king, and plays rockabilly with just as much passion and prowess as The King did. As such, On The Go is a memorable, danceable slab of beautifully flawed, tight rockabilly that will make you sweat and swing. I'll give it an A-.