VARIOUS ARTISTS: From Hell To Breakfast
A Taste Of Sugar Hill's Texas Singer-Songwriters (Sugar Hill Records)
By: Alex Steininger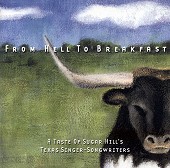 Sugar Hill has quite the stable of country singer-songwriters, a lot based in good old Texas. From Hell To Breakfast showcases their Texas singer-songwriter offerings. From the old time bluegrass of Bad Livers, through the country-folk of Townes Van Zandt, and The Gourds' modern country rock, Sugar Hill boosts an impressive roster. Other notables include Terry Allen, Guy Clark, and Robert Earl Keen, all similar enough to warrant the Sugar Hill label, but unique in their own way, each offering something special to their sound that makes them all worth picking up.

Sugar Hill has built their name on quality and talent, and From Hell To Breakfast displays a lot of this talent, focusing in on Texas, and giving you country through the eyes of Texans. I'll give it a B.