INTERVIEW: Cynthia Plaster Caster
Of Plaster and Semantics (Cynthia Plaster Caster)
By: Randy Harward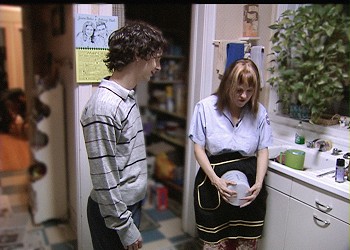 "What the hell is a groupie, anyway?"

Cynthia Plaster Caster poses the question only somewhat rhetorically. The 55-year-old self-described groupie, whose claim to fame is creating plaster casts of rock stars' penises, genuinely wants to know what she's been calling herself for the past 30 years. Contemplating the ugliest and easiest connotation of the word..."slutty"...she makes a case: "I don't think there's anything strange or dark about desiring men that are talented, good lookin', frequently witty and fun to be with on a casual basis. Nothin' slutty there, I think. But I looked it up in the Random House Dictionary and it says it's a young girl who follows bands. I'm not young, and I still do it. I know male groupies. And I don't know [what constitutes] legally following them. I live two blocks away from the Rock and Roll Hotel."

She believes it was Peter Noone she first heard use the term negatively, likely because he was miffed ladies were acting as sexually sovereign as he and other rock stars. "The groupies were choosing multiple partners just like the guys in bands. It was double standard."

Even so, the burgeoning sexual revolution enabled it, and when Cynthia was charged with casting "something solid" in a college art class, it became the perfect backdrop for her fabled creative quest.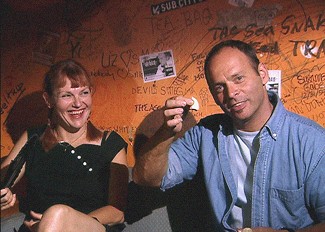 Friends Joel Coplon and Al Hernandez served as test subjects before shy Cynthia approached Mark Lindsay of Paul Revere and the Raiders. She didn't induct the first rock and roll member that night...Lindsay balked...but did lose her virginity. The first, and forever the most famous, cast would come two years later when the Jimi Hendrix Experience rolled through Chicago. Hendrix readily submitted and from there, Cynthia Plaster Caster's legend and collection grew.
Today, such rock luminaries as ex-Dead Kennedys vocalist/spoken word artist Jello Biafra, Mekons/Waco Brothers frontman Jon Langford, Revolting Cocks vocalist Chris Connelley, MC5 guitarist Wayne Kramer and latest subject, showtuney indie rocker Bobby Conn are among the 70-plus plaster penises, as well as a number of women (Cynthia P.C. has been casting breasts since 2000, beginning with L7 vocalist/guitarist Suzi Gardner). Her deeds have been immortalized in song (KISS' "Plaster Caster," a failed bid by Gene Simmons to enter the fraternity...CPC chooses only musicians and artists who move her) and celluloid; Jessica Villines' documentary, Plaster Caster.
The filmmaker met Cynthia at Crash Palace, the Chicago club where Courtney Love first met Kurt Cobain. Cynthia was there to ask Villines' then-boyfriend, Jesus Lizard guitarist Duane Denison, to pose. "She was really nervous and shy," says Villines, "but finally she blurted it out." Denison graciously declined, but Villines, intrigued at the legendary groupie's shyness about recruiting "cast-idates" even after 30 years, rang her up later and made a proposition of her own: would she care to be the subject of a documentary? Cynthia agreed. "They couldn't have come along at a better time," she says, "because it was two of the craziest years of plaster casting's history."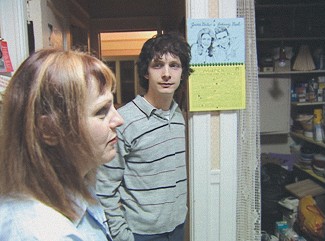 And how. Villines ended up with an estimated 150 to 200 hours of footage, which she edited into the 97-minute Plaster Caster. The film is an insightful, often hilarious portrait of a woman who has lived according to her muse. We observe Cynthia pitching 5ive Style guitarist Bill Dolan; at her first gallery show; casting Demolition Doll Rods guitarist Danny Doll Rod and litigating with former Frank Zappa manager Herb Cohen, who held her collection captive for ten years. Every castee of note is interviewed, excepting Hendrix. The film has received raves worldwide and screened as an official selection at 17 festivals, including the Seattle Underground Film Festival, CMJ Film Fest, the Leeds, UK International Film Festival and the NoDance Film Festival in Park City, Utah.
Cynthia is delighted with the film and the recognition it has garnered. She plans to publish her memoirs, but will first found the Cynthia P. Caster Foundation, a not-for-profit from which proceeds will benefit needy artists and musicians. The funds will come the sale of limited-edition reproductions of the casts, as well as some drawings. Here, perhaps, is where Cynthia P. Caster changes the connotation of "groupie," realizing no financial gain and drawing a boundary:
"They're going to be sold as art. I'm not going to do dildos or anything like that."