SHOW REVIEW: Less Than Jake w/ Hot Water Music
Live @ The Crystal Ballroom (Portland, Oregon)
By: Chad Roskelley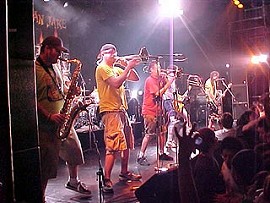 It has been 2144 days since the first time I saw Less Than Jake live. That's roughly six years. In the meantime, I've gotten taller, mildly wiser, and become of legal age to drink. LTJ on the other hand has put out four original albums, a couple not so original albums, and more vinyl than an S&M Ball. Instead of being the opening act for bands that don't sell venues to capacity, they're now the headlining act, selling out tickets in advance. And their show is still packed with amazing energy.

We arrived at the Crystal Ballroom around 8:40pm. The bill only had LTJ and Hot Water Music, as Bad Religion decided to take a break from this show. We had figured the promoter would grab some third act to put in their place. We were wrong. By the time we'd waded through the crowd in front of the venue (the show was sold out, people wanted tickets) and made it to the third floor, Hot Water Music had finished their set. The place was absolutely packed, capacity is about 1200 people. We made way to the beer garden, grabbed a drink and waited. LTJ came on at nine o'clock. The show started with six television screens set to some white noise, then colored broadcast television bars, and the "Emergency Broadcast System" message. They stage had two light tree's setup. Each with three white, blinding bulbs. Those bulbs flashed, I went blind (which I will do many times before the show ends) and the show had begun. I didn't grab a set list, nor did I write down what they played or really remember what they played. I know it started with a good song, ended with a good song, and there was some killer shit in between. I should also point out that there were probably three or four new songs thrown in to the mix.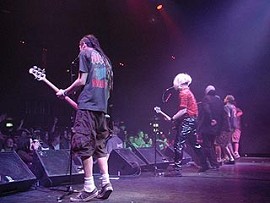 I'd have to say this is the first show I've ever seen Chris really talk to the crowd. At one point two guys that had lost their wallets went on stage and slow danced (which was actually pretty fast) in order to get their wallets back. Chris mentioned something about starting drinking again after not doing so for a long time. Maybe that's why he was so talkative. What ever it was, it worked. About three songs before the end of the show, the band stopped and Chris stated that normally at this point the band would walk off stage, then everyone would chant and they'd come back on for an encore. Instead the band stayed on stage and did a quick Q&A time. Some girl in the crowd asked if she could have Chris's children. She was wearing only a bra for a top. Shortly, she was on stage calling her mother on her cell phone. The crowd said "Good night" to the mother, and then Chris announced to her that her teenage daughter was on stage wearing only her bra. Oh the shenanigans! Less Than Jake nailed out three or four more songs and then that was it. The show was over. They left the stage, and the crowd split. I've never ever seen this happen, ever. I really would have liked an encore. We were back home by 10:30pm. All in all, the show was great, and I can't wait until the next time.