VARIOUS ARTISTS: Because We Care
A Benefit For The Children's Hospital of Orange County (Glue Factory)
By: Alex Steininger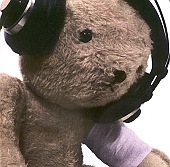 A benefit album for the Children's Hospital of Orange County, which treats approximately 7,500 inpatients and over 100,000 outpatients each year, Because We Care finds some of Orange County's most promising bands getting together to benefit a good cause.

Rufio's acoustic version of "In My Eyes" is a less emo, more pop version of what you might expect from Dashboard Confessional. Reel Big Fish's "Doo-Doo" finds the band leaving the ska behind, creating a lightweight, sing-along pop ditty for you to bop your head and tap your feet with. And then there is Suburban Legends with "Gummie Bears," a wacky ska number that will make you laugh.

Bands like Longfellow and the Up Syndrome bring some pop-punk to the mix, as does Thrice. The majority of bands are pop-punk (after all, it is Orange County), but for the bands that aren't, they seem to stick out.

Though diversity isn't a key ingredient in this benefit album, the music is fun and the cause is good, so it is worth a listen or two. I'll give it a C+.