Capitol K
Island Row (Beggars Banquet)
By: Alex Routledge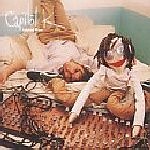 Island Row is Capitol K's new disparate but innovative album and an intriguing listen it is. Mixing cutting-edge electronics with noise rock, psychedelia and pure, innocent pop, Kristian Craig Robinson, a.k.a. Capitol K, crafts a new musical niche from his lo-fi tunage.

Starting with the beat-driven and electronic-tinged City, Capitol K sets the tone for the rest of the record. The tune's melancholic guitars are reminiscent of Radiohead, blended with the experimental noise-rock of Beck amid sweeping psychedelic and lo-fi soundscapes. Robinson's sonic backdrops are both exotic and indifferent -- despite the frequent changes in mood and style, there is still a soulful cohesion to the record and he cleverly merges elements of pop, rock and cut-up electronics to from a new sound.

One of the stand-out tracks from the record is Pillow, a three-minute friendly pop song, hidden under Robinson's industrial and electronic fuselage. The catchy number blends acoustic guitar pop against Capitol K's trademark electronic psyche.

Soundwaves is the closest the producer comes to sounding like anyone else as he turns out an experimental synth pop workout. Electronica-tinged beats overpower the noisy guitar-rock as breathy, distorted vocals sweep through the mix. The bustling electronica and dulcet guitars haunt echoes of Primal Scream, but Capitol K proudly has his own stamp on the mix.

Capitol Beat Sticky sees Robinson cleverly disguising modern pop as experimental, jazz-infected dub as raw guitars compete with industrial beats against a dance-tinged backdrop.

Underneath the narcotic psychedelia of songs like Anon are meltingly poppy melodies and harmonies, strung together by soulful and intricate rhythms. Amid the disturbed electronics of Heat emerge memorable guitar arpeggios which give way to Jeff Buckley-style falsetto vocals. Equally, the noisy guitar-rock of Monster boasts both innovation and inspiration.

The album's closer, Duffle Coat starts with a swirling electric piano and is adorned by a heavy beat and sweeping synths. Halfway through the track, the chilled-out merges ino the industrial as Capitol K indulges in some more electronic noise-rock antics in a pensive and inspirational finale to the album.

Island Row is an interesting album -- a mixture of the experimental, the commercial, the unusual and the bizarre. There are hints of Beck and Radiohead influences, but Capitol K has, to his credit, emerged with his own sound. Despite its experimental mirage, the album's commerciality hides behind Capitol K's eclectic and industrial soundscapes and it will be interesting to see where he takes us next.