Cebola Mol
Samba Roulotte (Cebola Mol's web site)
By:

[email protected]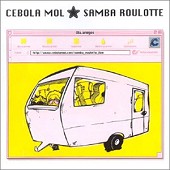 The simple and laid back lifestyle of the Portuguese people complements the uncomplicated music of Cebola Mol. The two script writers/comedians of a popular rock radio station in Portugal, gained a cult following after their skits on the radio were an instant hit. The radio station were getting so many requests and their websites getting many hits and downloads, the two members of Cebola Mol decided to put out their debut album, Samba Roulote.

The Nuno Markl and J?lio Isidro of Cebola Mol seem to focus less on the sounds of their acoustic guitars but rather on the awkward yet seemingly hilarious vocals. In the 7th track "Straight No Chase" there are no lyrics, just the strum of a guitar and noises that sound similar to Korn front man, Jonathan Davis on helium. The track is only 25 seconds long which is long enough before the sound truly becomes annoying. They do put some lyrical content into their primitive guitar strums. One of their many popular tracks, "Telmo's Song" mocks the popular character of the successful reality based show in Portugal, "Big Brother." The performs a ballad of a character who has gained fame without actually accomplishing anything. And their only English song "Sugar Honey Baby Baby" is quite like many pop songs in today's society. The phrases that are constantly used are "sugar baby" and " I love you" just like many pop songs today. The rest of the tracks on the album are quite repetitive, sounds that make scratching a chalkboard sound like music and ridiculous lyrics.

Samba Roulote is not an rock album with songs dealing with today's youth problems nor is it intended to be. It is a simple album, with 2 Portuguese guys trying to make others laugh even if they do sound like Roseanne singing the National Anthem at times. It is not the heart-felt lyrics or the brilliant guitar playing that made this album a success. It is the charisma and the ability to sound disturbing yet create a laugh or two. When listening to this album it is recommended not to take yourself or the music too seriously.