Champale
Simple Days (Pitch-A-Tent)
By: Alex Steininger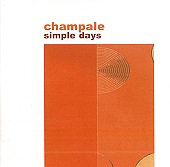 With their dream-inducing, light indie-rock, Champale creates atmosphere and relaxation when you put them on. The songs swim in your head with the right combination of rock and dreamy pop, sometimes waking you up from your sleep to get you to tap your feet and enjoy their rock songs, before putting you down again with more slumbering numbers.

The songs are tight and full sounding, with the full band adding their own touch to the songs to make them stick in your head. But, when just sitting attentively and paying close attention to the music, it is the vocals that you gravitate towards, as they gently rub your skin and make you feel calm and carefree.

This is indie-rock made with precision. The occasional horn appearance soothes over your soul while the band, though slightly jarring at times, keeps you going, fueled by their brushing sounds and airy feelings. I'll give this an A-.