Dishwalla
Opaline (Immergent Records)
By: Alex Steininger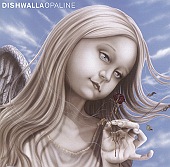 Dishwalla's latest, Opaline, the latest from Dishwalla, finds the once MTV buzz-band saying goodbye to corporate labels as they call indie Immergent Records home. Though, with a radio friendly, produced sound, the band still seems eager to find themselves on major commercial radio stations. But, does the album have what it takes to become a top 40 prize?

Imagine taking the wind out of the Goo Goo Dolls, producing them even more, all without the catchy sing-along choruses and flavorful hooks. That's what you get with Opaline. It's an uninteresting, completely produced modern rock record that pays homage to folk-rock, then amps it up with electric guitars and adds some juice from the rhythm section. So, to answer my own question, yes, it does have what it takes to be a top 40 record - except the corporate payola to grease the wheels. As such, the band finds themselves in limbo on an indie. I'll give this a C.