Goldrush
Pioneers (Virgin Records)
By: Alex Routledge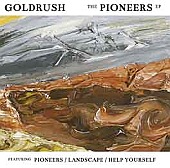 Goldrush blend English folk charm with American rock in their fine new single, Pioneers, where whispery, acoustic melodies meet sparse, minimal rhythms.

Pioneers recalls the songwriting prowess of the late Nick Drake amid subtle nuances of Neil Young and, with a sound quite far from current trends, American bands such as Mercury Rev also spring to mind.

Vering away from modern experimentalism or the energy of Americana, Goldrush opt instead for memorable and uplifting melodies. Their new single is driven by acoustic guitars and deep, husky vocals amid some well-crafted harmonies. Towards the end of the track, their guitar-heavy sound brushes with the noise-rock of Beck and Radiohead in a memorable finale.

Landscape, the first B-side, is very similar, whilst Help Yourself sees the band experimenting with a Primal Scream-esque sound, blending psychedelia with breathy vocals.

Pioneers is a memorable tune and the band have used some fresh ideas without becoming too obsessed with experimentalism. At the end of a successful UK tour, expect to hear more of them.