Jana McCall
Slumber (Up Records)
By: Alex Steininger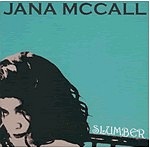 The first release on Up Records in awhile is a humdinger. Jana McCall's Slumber seems appropriately titled at some times, while misleading during other times.

Singing with a relaxing, lullaby tone that makes you want to fall into McCall's arms and fall asleep, all while fairly lush instrumentation fill out the songs behind her voice, this is the perfect disc to come home to, put on the stereo, and crash on the couch with.

However, there are times when you can't sleep. Either because the instrumentation is so tight and well crafted that you want to absorb everything and not miss a beat, or Jana's voice is so strong and powerful that you get swallowed by it, wide awake, but left in a daze.

This is full, slumbering pop music that will have you swimming in a sea of beautifully layered craftsmanship. I'll give it an A.