The Jon Spencer Blues Explosion
Plastic Fang (Matador Records)
By: Alex Steininger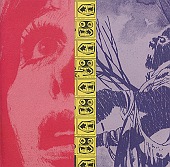 If you were to talk to a blues musician who makes his living playing blues dives every night of the week, and told him about The Jon Spencer Blues Explosion, explaining to him that the JSBX was "blues rock", he'd laugh at you. After all, your cookie-cutter blues-rock band has more in common with the run-of-the-mill bar band than JSBX.

However, some may proclaim JSBX as a "blues-rock" band. With Plastic Fang, the band manages to beat that tag, and any other tag you can slap on them, playing crazed, psychobilly-infused energetic rock songs that, like the Rolling Stones, takes its cue from sixties blues legends from Chicago, while adding its own punk rock touch.

The swanky, sexy voice of Jon Spencer croons while the band wails, cranking out anything-but-timid rock music that would make even the king himself blush. Songs such as "Sweet N Sour" unleash the noise like there is nothing else, while "Hold On" prefers to get dirty, concocting a muddy piece with style for you to chew on.

Of course, you need at least one song to pay homage to the great legends that influenced you, and "Mean Heart" does, coming as close to traditional blues as JSBX does.

This is mean, dirty, gritty rock music that goes from Rolling Stones to The Cramps, and everything in between, without even trying. I'll give it an A.