K's Choice
Almost Happy (Red Ink/Sony International)
By: Alex Steininger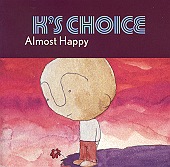 Almost Happy, the latest from K's Choice, follows the band through a world of pop, from the soft and serene to upbeat rockers, and stands out as their strongest collection of songs to date.

"Live For Real" lulls you to sleep with its comfortable, slumbering piano and nurturing vocals that softly sing the words "with you I will live for real".

"Somewhere" finds the band floating in folk-rock waters as they win you over with a melodic, poppy song lead by emotional vocals and an acoustic guitar, backed up by the band as they add a light texture, making the song work with more than one dimension.

"Always Everywhere" sounds full and lush, while still maintaining a soft sound, whereas "Another Year" picks things up a bit, retaining its soft pop feel, while allowing the rhythm section to breathe a bit.

A bonus disc, a live album, showcases the band at their best, as front woman Sarah Bettens' powerfully emotional voice, which is both the trademark and driving force for the band, comes even more alive. Live staples like "Butterflies Instead" and their top 40 hit, "Not An Addict", never sounded better.

With Almost Happy, K's Choice have created a concrete album with well-written lyrics portraying a positive vibe, while singing about pain and sorrow, and trying to overcome it. K's Choice is an uplifting band able to overcome the difficult and rise high above it all to smile. They realize it will be O.K. and convince their listeners of that, too. I'll give this an A-.