Rialto
Night On Earth (Koch Entertainment)
By: Alex Steininger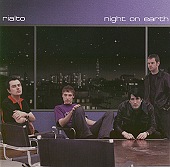 Electronic-infused pop rock, the UK's Rialto create a smashing collection of pop with Night On Earth, a well-produced, glossy album that maintains a commercial feel while still taking some chances. From safe pop to chance taking rock, Rialto's sound is one that could find its way all over the radio or get ignored by radio, and still find an audience that will embrace and enjoy it.

The sonic rock of "Deep Space", the dance-groove of "Anyone Out There?", and the serene "Underneath A Distant Moon" paint a picture of what Rialto is all about, versatility and diversity, playing it out on Night On Earth with little hesitation. I'll give this a B.