Tram
A Kind of Closure (Jet Set Records)
By: Alex Steininger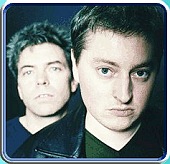 A Kind of Closure, the latest from Tram, is a dark, melancholy record, capable of being completely sparse, just vocals and faint instrumentation. Or the songs start off sparse, all the while building up to a lush ending, through the use of strings and other instrumentation leading into a full on rock sound.

Well versed, the songs manage to sway between different influences, creating a unique, original sound that, though rooted in its influences, is entirely its own. Like a good lounge act, the songs are smoky and mysterious, but, interpreted through pop, the songs come out a bit more digestible, maintaining their lounge feel, while sinking into your soul and making you warm up to them instantly.

This is a hard record to create, one that maintains its identity throughout, but can capture the listener's attention without losing identity or integrity, and it does it without blinking. I'll give it an A.