VARIOUS ARTISTS: This Is Where I Belong
The Songs of Ray Davies & The Kinks (Rykodisc)
By: Alex Steininger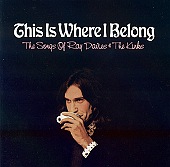 One of the unique things about this tribute album to The Kinks and Ray Davies is the five pages of liner notes written by Ray Davies. As he says, "Because tribute records are usually conceived after the composer has 'passed', I can only assume that 'rumors of my demise have been greatly exaggerated'".

And though it is a bit peculiar for an artist to write the liner notes for his own tribute album, Ray Davies once again has the words to make sense of it, "I still feel strange about writing liner notes for my own tribute album, but as it is also a tribute to The Kinks, it doesn't feel too bad."

As such, Davies makes this a good tribute album, and the musicians and their rendition of Kinks songs make it superb.

Fountain of Wayne deliver their guitar-driven pop version of "Better Things", Josh Rouse does a fitting pop version of "A Well Respected Man", and Queens of the Stone Age record a melodic rocker with "Who'll Be The Next In Line".

Other gifted artists such as Ron Sexsmith, Matthew Sweet, Lambchop, and Bill Lloyd & Tommy Womack deliver memorable covers of their respected choice.

This is a tribute album worthy of the tribute title. Where some tribute albums butcher the songs and should be called something other than a tribute, This Is Where I Belong is a fitting reminder of how great The Kinks are. I'll give it an A-.