VARIOUS ARTISTS: Laugh at the World
A Compilation Presented By the Laughing World (Infomercial Recordings)
By: Alex Steininger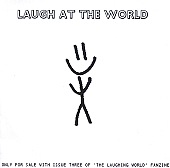 Included with issue # 3 of the Australian zine the Laughing World, Laugh at the World sports eighteen tracks of various Australian rock bands, spanning the gamut from full-on rock force to electronic-tingled, pop songs that make your head spin.

Freezepop stand out as one of the disc's highlights. "Plastic Stars," their contribution, is a bouncy, infectious pop song that pulsates with an electronic drum triggering the song while solid female vocals make you melt to the stern, yet friendly voice that swims through the song.

Cunningham show you how garage rock is done down under. Module Control brings more electro-pop to the front and do it well. The Deadbeat Nurse's "I Like Stealing Stuff" is a breezy, tranquil instrumental that will remind you of an early morning at the coast, just you and a loved one, walking down the beach as the water hits your feet as you see the sun rise.

Then there is Screamfeeder, a band that uses their rhythm section to the fullest, pushing the melody in the song before unleashing the guitars and driving home a rock song, propelled by a hook, but completely fueled by the rock.

This is a great collection of bands you'll enjoy discovering accompanying an excellent zine that is well designed and well written. Highly recommended. I'll give it an A-.