Blackalicious
Blazing Arrow (MCA Records)
By: Stan Hall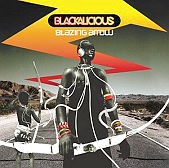 The Bay Area hip-hop duo Blackalicious suffers from some hugely misleading, myopic comparisons that simply must be refuted this instant:
The DJ Shadow thing. Yes, they're both from the Bay Area. Yes, they once collaborated with him, years ago. But they don't sound like him at all. Hell, cLOUDDEAD sounds more like DJ Shadow than Blackalicious.
That they're hippie jazzbos. Yes, they're playing a few shows of the Sasquatch Festival tour with String Cheese Incident. Yes, Ben Harper appears on a track on the new album. No, they don't rap about gangbanging and bling-bling and life in the ghetto. Hell, they don't even curse. But they're not the Brand New Heavies or US3 or any of that "biddy-biddy-bop" stuff. The truth is, Blackalicious marks a sort of revival of the positive tip, Afro-positive, Native Tongues movement of more than a decade ago, when gentle but very creative groups such as De La Soul, A Tribe Called Quest and the Jungle Brothers briefly ruled the roost -- that is, before gangsta captured the fertile imaginations of suburban white teenaged males everywhere and flattened the D.A.I.S.Y. Age. And just as it was a misnomer to label the Native Tongue groups hippies, so it goes with Blackalicious.
OK--that's out of the way. Now, onto the mostly brilliant new Blackalicious album, "Blazing Arrow."
Picking up from their mostly overlooked underground classic "Nia," MC Gift of Gab and DJ/producer Chief Xcel have crafted a follow-up that's even more creative, witty and, for a while, propulsive. The excellent production mixes samples (building the title track from an obscure Harry Nilsson children's song is genius!), live instrumentation, electro-beats and varying effect techniques to mostly successful ends. Gab is an unusual MC; he sounds like a college professor or maybe some sort of student radical, spouting lyrics that mostly concern matters of the heart and mind -- intelligent, thoughtful and hopeful.
Check out "Sky Is Falling," a tight pop song boasting a guitar that, though it's low in the mix, wouldn't be out of place on a Bardo Pond or Tortoise song. Or the sensuous, very funky "Aural Pleasure," the kind of song you imagine playing in a club as you move through the crowd greeting your friends and scoping out hotties.
"First in Flight" features a great, deliciously weary guest vocal by Gil Scott-Heron, while the obligatory tongue workout "Chemical Calisthenics," finds Gab, with production assistance from the Cut Chemist, taking the listener on a dizzying trip through the periodical table, nervously warning us not to mix volatile chemicals (he employed a similar, equally thrilling method using the alphabet on the '90s track "A2G"). Perhaps best of all is the unusually sensitive, graceful "Make You Feel That Way," which consists of a simple beat, a melodic bass, a plaintive trumpet and Gab reciting a laundry list of everyday things that make you feel great about yourself. It's a track that can really cause goosebumps, especially at the end, when it fades out on a really cool delay effect and Gab's voice repeating the word "love" -- not too many times, just enough that you know he means it.
A lot of these tracks rank with the very best hip-hop being produced today, displaying prodigious amounts of inspiration, creativity and crossover appeal. It would even be appropriate to consider "Blazing Arrow" for inclusion among hip-hop's 100 or so all-time great albums. Except for one little problem -- its nearly interminable length of seventy-three minutes, twenty-five seconds.
Sometimes, the digital age is a curse. One of the worst things about the advent of CDs and the subsequent advances in CD technology is their greatly increased storage capacity over vinyl and cassette. The extra time, instead of forcing artists to practice strict quality control, to self-indulge, and to allow in-jokes and half-baked experiments to rub shoulders with worthy tracks. It's not fair to listeners, either; it's usually hard to keep one's attention fully focused on a single album for more than an hour, and it's exceedingly rare to find albums of more than, oh, 55 minutes that truly keep up a consistent standard of quality for the entire duration.
There aren't really any bad songs among the 17 tracks on "Blazing Arrow," but there are a few that should go, especially a mellow handful near the end that slow down the album's momentum in a big way. By the time you get to the next-to-last track, even the prospect of a single song that features Harper, Zach de la Rocha and Saul Williams isn't very exciting. And in this case, the ponderous song in question, "Release," isn't worth the effort. In all, 20 minutes of "Blazing Arrow," while intermittently interesting, could stand to go. But since one has to consider an entire CD and not just the highlights when assessing its overall value, it's undeniable that the extra fat makes the sum of Blackalicious's efforts less than its parts, which is a real shame.
Still, there's 50+ minutes of "Blazing Arrow" that is truly great, and more than worthy of your hard-earned cash. You just might, however, find yourself skipping ahead a few times.
Grade: B+