INTERVIEW: American Hi-Fi
Not Just The Flavor of the Week
By: Alex Steininger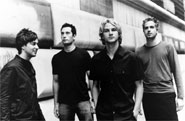 Boston-based rock quartet American Hi-Fi tasted MTV and radio success with its poppy anthem "Flavor of the Week." Now, with their sophomore full-length, Beautiful Disaster, scheduled for a fall release, the band is ready to prove to fans and critics alike that it won't be emulating the hit song's title.

"Whatever success we've had with 'Flavor of the Week,' I think the band is misunderstood," says guitarist Jamie Arentzen. "Not by the people that have seen us play or who bought [the self-titled] album, but by the general public. That might happen again this time, I don't know, but we were thinking we would deliver something that is unmistakably what we are."

The band's self-titled debut was a good representation of what it could do, laden with crunchy rockers, edgy power-pop numbers and even some pure pop pieces. Beautiful Disaster will put to rest any rumors that American Hi-Fi is anything but a rock band.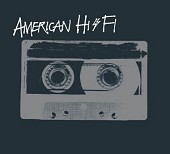 "Beautiful Disaster is all melodic and way more aggressive, more old school punk," Arentzen reveals. "But we don't consider ourselves a punk rock band by any means. We don't have that attitude." Thinking for a moment, he tries to better describe their forthcoming album. "They're aggressive pop songs."
The band, which recorded its debut on a completely digital, Pro Tools set up, opted for an analog recording this time around.
"Not many people can feel the difference between analog to digital," explains Arentzen. "What they do feel is how digital ends up edited, whether or not they know it. It just sounds so precise. And it was cool for a while and I think it's still a great tool but people definitely overuse it-- I don't want to hear auto tune on vocals anymore.
"All the mainstream records nowadays start with the drums -- 'ok, that's a good drum take' -- and then you Pro Tool it and layer everything on top of it. And it's so precise, it sucks the life out of it."
"We're pretty guilty of that too on our last record, but we were still trying to figure out what we were doing and that's the way it worked out for us. But after playing after a whole year, we realized (analog) is how we want to record."
Preferring a more lively sound, the band kept the tape rolling as they bashed out the new songs. " Beautiful Disaster will have a way more raw sound, but still sound hi-fi," Arentzen tells me. "It's not a lo-fi recording by any means, but has this raw energy. We got the basic tracks by all playing together. We never thought about (starting with) the drums and layering stuff on top of it. Every track on the record starts with the four of us playing on it, and it has a better feel because of it."
Produced and mixed by Nick Launay, the twelve tentative tracks on the album will showcase a more mature rock band, one that can easily crank out the loud, guitar-driven songs, but also comfortably slip into an acoustic number.
"'Beautiful Disaster' and 'This Is The Sound,' which is one of the few mellower numbers -- it's kind of acoustic but still raging at times -- those are probably my two favorites on the album," says Arentzen.
Constantly touring non-stop for more than a year, the band found time to write the record on the road, taking off two weeks for Christmas, and then entering the studio before they could even settle back into their domestic lives.
"I would wake up in the middle of the night in my bunk, it would be six o'clock in the morning, and Stacy (Jones, guitarist/singer/songwriter) would be whispering vocals into his computer or playing guitar - just working on stuff," Arentzen says of Jones' songwriting methods. "Then we'd go to soundcheck and we would work up a new song. We did that with about forty songs last year. This record could have been so many different things. It could have been a very chill Oasis record or what it is now, a much more aggressive power-pop thing."
Arentzen is both thrilled and amazed when he talks about how no sooner than the band left the road, they hit the studio and then hit the road again.
"We finished touring at Christmas; I got home a couple of days before Christmas. Two weeks later I was in L.A. and we were doing pre-production on the record," he says. "I feel so lucky [Stacy] is like that and can write on the road and get it all done."
"You have to tour a lot and so many bands come off the road and need six months to write a record. But we decided to get in the studio right away, and we have a chance of getting a record out before another year and a half goes by.
"Now it is going to be in the fall. Literally, we finished mixing two days ago and I'm back on the road. It's really hard, but I feel so lucky. I can't even believe it. We just finished a second record -- I'm in awe of it."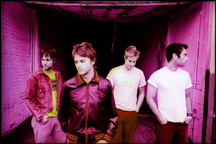 The band is currently going over various mixes for Beautiful Disaster and trying to settle on the final cuts that will make the album. In the meantime, the group was offered an opening slot on this spring's Elvis Costello American tour.
"Elvis Costello found out about us through his wife," Arentzen informs me. "Then we met him and he told us he listened to the record and loved us. We then got a call and were offered the entire tour, but we could only do a week due to our upcoming tour with (labelmates) Autopilot Off and then the Warped Tour."
"But," he adds, "we're very excited to be doing a show with Elvis Costello, let alone a week tour. And to hear him tell us he likes us. It doesn't matter if nobody else likes us, Elvis Costello liked our record."
Look for Beautiful Disaster this fall on Island Records.