Gary "Pig" Gold Has Eight Questions for... Elena Skye
By: Gary "Pig" Gold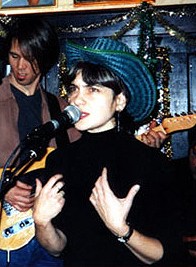 Despite her top secret affinity for Dee Dee Ramone, The Big "E" grew up in a deep trad music tradition and began playing mandolin in the Chicago area at the ripe young age of fourteen. Her high but FAR from lonesome Demolition String Band [www.demolitionstringband.com] have now released their latest hardcorn-honkabilly-grindgrass-psychotwang disc "Pulling Up Atlantis" on the Okra-Tone label, to much critical acclaim I must add, and Elena can also be spotted on the small screen not only as part of Conan O'Brien's fave bluegrass group, The Kudzo Mountain Rebels, but portraying the 800-pound angry folk singer Betsy Snowball as part of Comedy Central's Upright Citizen's Brigade. And speaking of tee vee--

1. "Munsters" or "Addams Family": Which one's for you, and Why?

Of course it's The Addams Family for me. Morticia was a slinky, stunning beauty, Gomez did yoga, Wednesday was a great dresser and I could always ignore Uncle Fester, Pugsley and Cousin It. And then there was Thing. *sigh*

The Munsters were very clumsy in comparison, IMHO.

2. Who in the world, living or dead, would you most like to play a game of "Twister" with?

Dwight Yoakam, because he's very much alive and I'm sure that's the only chance I would ever get to get tangled up with those legs. And he would of course have to sing to me while we were playing. And afterwards he would take me to dinner, and we would go back to his place and he would get out his guitar and we would sing harmonies together and, and, and, and....

3. How many Sid King & The Five Strings records do you own?

Sounds like another great thing in life that has passed me by. How many Sid King & The Five String's records would you be willing to lend me?

I'll return them.

I promise!

4. If you had been working the front gate at Graceland that night back in '76 when a drunken Jerry Lee Lewis showed up, shotgun in hand, to "put that damn Elvis outta his mis'ry", what would you have done?

No use in trying to talk sense to a drunk man, that much I've learned in this honky tonkin' life of mine. Best to pretend you sympathize with the guy; meanwhile, push the Red Alert button and let the local SWAT team come out and bust his ass.

5. "Gilligan" or "The Professor": Which one's for you, and for How Long?

Life is full of these very unsatisfying choices, isn't it? Hmmm-- well, Gilligan was kind of cute and I could always try to remember him as Maynard G. Krebs and then it wouldn't be so bad.

6. What single song, living or dead, do you most wish you'd written-- and Why Didn't You?

Well, this one changes from day to day, but today it's most definitely "The Grand Tour," as sung by George Jones. That song is so brilliant. One of the GREAT MOMENTS IN COUNTRY as far as I'm concerned.

I don't why I didn't write it. Hope someday I can write something that comes even close to that bitter sweet little nugget.

7. Whose mandolin would you most like to be reincarnated as?

Jethro Burns', most definitely. What a fun trip that would have been!

8. In 2000 words or less, Your Hopes, Aspirations and Goals, musical and otherwise, for your life and your country?

I hope I make enough money to afford a decent haircut and a pair of silver glitter hot pants before all is said and done. And I hope some day to be traveling in our Enterprise rented van and hear a Demolition String Band tune played right between a Dolly Parton and a Wayne Hancock song, and have it sound perfectly natural. That would make happy.

As for our country-- well, turn off your tv's, don't believe the New York Times, and spend more time hanging out in your local honky tonk and I think the country, and the world, will become a better place just naturally.