Rollins Band
The Only Way To Know For Sure 2xCD (Sanctuary Records)
By: Alex Steininger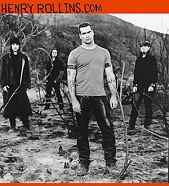 Henry Rollins is, well, Henry Rollins. What else can you say about him? Former Black Flag front man gone spoken word artist? No matter what he does, though, he'll always be a rocker, as is evident on his latest release, the 2-disc live set, The Only Way To Know For Sure.

Bruising, hammering hard rock colliding with punk, Rollins is a bad ass, a hardcore to-the-extreme individual who doesn't settle for just hard. When he rocks, he makes sure it is loud, powerful, and plenty damn brutal.

With over an hour and a half of music between these two discs, your Rollins fix will be fulfilled, as Rollins and his band kick the shit out of the rock as they throw it out at you. I'll give this a B.