Pitch Black
Pitch Black (Revelation Records)
By: Alex Steininger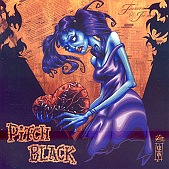 Punk rock with a melodic side, Pitch Black jumps between full on hardcore and slightly less aggressive punk rock. Though, no matter what they do, they seem content making it lightly poppy, very melodic, and hook-based, using the hooks to drive through you, sending one off before turning the most grueling part of the song on you and letting it run wild.

The only drawback of this album is that the vocalist doesn't match the intensity of the band. His voice is gravely and bloody, able to channel the spirit of hardcore. But, when it boils down to it, it seems to be as consistent as a wet paper towel, lackluster at times, and aggressive during others. I'll give this a C-.