Simple Plan
No Pads, No Helments...Just Balls (Lava/Atlantic Records)
By: Alex Steininger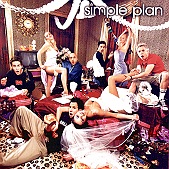 Propelled by the hit single "I'm Just A Kid", with its infectious chorus and easily relate-able lyrics about alienation that strikes a chord with its target audience, this young Quebec quintet has taken the rebellion and carefree attitude punk and ran it through a modern rock grinder. Delivering a pop-punk sound that manages to avoid the standard pop-punk repetitiveness and give fans something-similar track to track, but different enough not to bore you.

"I'll Do Anything" and "When I'm With You" cover the typical pop-punk topic of falling in love and dealing with a crush, while "God Must Hate Me" deals with self-deprecation, and "I Won't Be There" deals with the inevitable break-up of previously mentioned love.

Sugarcoated sing-along choruses, shining guitars with the right amount of bite, chunky bass, and hard hitting drums make this a fun pop-punk album to sink your teeth into. I'll give it a B.