The Specials
More Specials (Chrysalis/Capitol)
By: Alex Steininger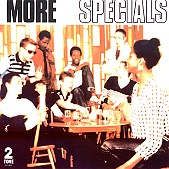 With the second wave of ska booming, and commercial attention surrounding it, thanks in part to The Specials 1979 self-titled debut. 1980's follow-up, More Specials found the band moving in a poppier, but still ska-heavy direction as they experimented and pushed the envelope on what they could do as a ska band.

Creating danceable, infectious tunes, The Specials were the perfect band for many occasions, creating songs you could sing along with or just go crazy and dance too.

More Specials, though not as cohesive as the self-titled debut, was more digestible, helping to earn them a wider fan base and more commercial success. A solid record, More Specials earned its place in ska's hall of fame for its innovation and experimentation with the ska sound. I'll give it an A-.