Alfie
A Word In Your Ear (XL Recordings)
By: Alex Steininger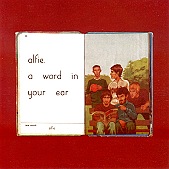 Alfie knows when to settle down and sweep you off your feet with a lightweight pop song. And, they know when to crank up the guitars, delivering a jangle-y song you will tap your feet and shake your head too. A Word In Your Ear, their latest, is a beautiful creation, a testament to the brilliance and relevance of indie pop music.

Opening with the title track, Alfie decides to play with your mind, reeling you in with a swirling, lush pop song, breezing by you with a warm chill, one you can't resist. And from there they take you on a ride, following it up with "Cloudy Lemonade," a noontime romp through brushing rhythms, frolicking guitars, and gentle vocals.

"The Reverse Midas Touch" finds Alfie delving deeper into psychedelic pop, twisting melodies around a quirky hook, all the while gearing up to push the melody into your mind as the song takes you by the hand and befriends you.

And then the guitars start to make a real presence. "Summer Lanes" is a mid-tempo, free-falling rocker. And "Rain, Heaven, Hail" is a whirlwind pop piece.

Beautifully crafted, nicely layered pop songs with depth, Alfie's pop genius is not in question here, as they create a masterpiece for the mind and the soul. I'll give it an A.