Autopilot Off
Autopilot Off (Island Records)
By: Alex Steininger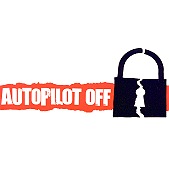 It is Island Records, a major label that is helping to preserve rock. Bands like American Hi-Fi and Rival Schools have delivered exceptionally powerful, crunchy rock records I'm proud to blast on my stereo as I drive down the street. And with Autopilot Off, the wave of solid rock music continues.

On this self-titled EP, Autopilot Off cranks out five rock numbers that burn with punk ferocity. But, adhere to the melodic sense of rock stalwarts like Husker Du. The guitars are buzzing, the amps are turned up to 10, and the rhythm section lays down the low end to make you twitch and sweat, all while ragged hooks come flying at you from every direction.

This is solid, punchy rock music that will reel you in and have you singing along as you burn your testosterone (and calories) to the energetic sounds blasting out your stereo. I'll give it an A-.